Tents, Tables, Chairs and Accesories Rentals
Your Go-To For All Party Rentals In Oahu
Book Online Now
Tents, Tables, Chairs and Accesories Rentals
Your Go-To For All Party Rentals In Oahu
  Tents Tables Chairs and Accessories
Classic Tent Table & Chair Rentals
If you are having an outdoor event or celebration that calls for a little extra shade, or the look and feel of the classic High Peak party tent, then you have come to the right place. Add the shade and do it in style with our premium Party Tents. Easy to setup and attractive, these tents will provide a great place for your guests to gather in comfort. Our frame are the perfect rental for outdoor weddings, graduation parties and other special outdoor events where a touch of elegance is required. Need extra tables and chairs? No problem, this the place for Oahu's best tent, table and chair rental packages.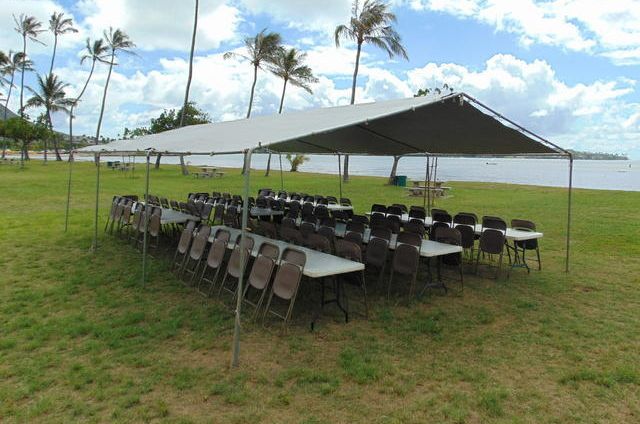 Featured Tent Rental
20x30 Tent, Table and Chair Package
At Alaka'i Inflatables & Party Rentals, we understand the importance of hosting a seamless event for you and your guests. That's why we offer tent rental packages that include everything you need to create the perfect outdoor gathering, regardless of the unexpected rain shower. Our standard package includes a silver tent, tables, and chairs. But if you want to take your event to the next level, we offer upgrade options for our tents and chairs. Our white tent and chair upgrade adds elegance for a more luxurious atmosphere.

In addition to our upgrade options, we also offer additional add-ons to enhance your event. Our water barrel rentals provide a stylish and functional way to anchor your tents without stakes, while our lighting rentals can create a stunning ambiance for your event. Let us help you create an unforgettable event with our customizable rental packages.
Book Online Now
Tent, Tables and Chairs For Every Event
Hawaii is known for its beautiful weather, but it's important to remember that even paradise can have its unexpected rain showers. That's why Alaka'i Inflatables & Party Rentals tent rentals are the perfect solution for any outdoor event or beach wedding. Our tents come in a variety of sizes to accommodate any number of guests, whether you're hosting an intimate gathering to a larger event, we've got you covered. Alaka`i Inflatables & Party Rentals' tent and chair rentals are made of durable materials that can withstand any weather conditions, so you can rest easy knowing that your guests will be protected from the elements.

In addition to our tent rentals, we also offer a wide selection of tables and chairs to choose from. Whether you're planning a sit-down dinner or just need some extra seating for your guests, we've got what you need. We have the standard plastic folding chairs for rent, or we can accommodate a more upscale event with our Chiavari style chair rentals. Chiavari chairs are perfect for a beach wedding or a holiday gathering with the family!

Are you looking for all three? Our tent rental packages not only include a high-quality tent rental but also table and chair rentals to ensure that your guests have comfortable seating away from the elements. At Alaka'i Inflatables & Party Rentals, we understand that every event is unique and that your rental needs may go beyond our standard packages. That's why we offer a range of customization options to make your event truly special. If you want to upgrade your tent and chair rentals or add additional items like lights, we can accommodate those requests during your reservation.
We Even Have Stage Rentals!
Stage rentals can take your event to the next level and ensure that your performers and speakers have a designated area to showcase their talents. At Alaka'i Inflatables & Party Rentals, we offer a range of stage rental options that can be customized to fit the unique needs of your event.

Our stages are available in various sizes and configurations to accommodate events of any size, from a small platform for a solo performance or a large stage for a music festival. Our stages are also designed with safety in mind, with a sturdy base that can withstand the weight of performers and equipment.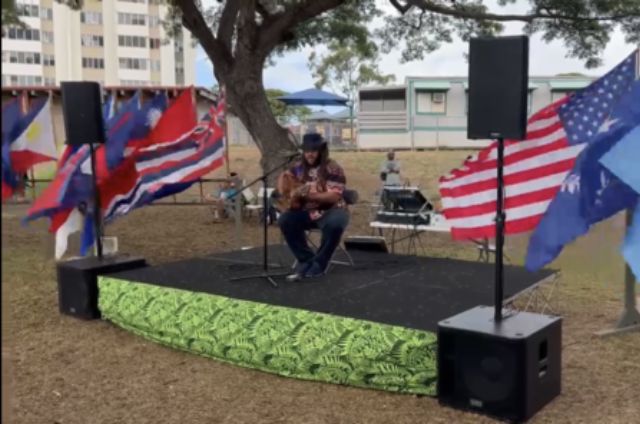 Why Rent Your Tents, Tables, and Chairs From Us?
Planning an event in Oahu can be a daunting task, but at Alaka'i Inflatable & Party Rentals, we strive to make the experience as stress-free as possible. We understand that every event is unique, and that's why we offer a vast selection of high-quality tent and chair rentals to make your event perfect.

Booking with us is easy and convenient thanks to our user-friendly online ordering system. You can choose from a wide variety of party rentals, including tent and chair rentals, tent accessories, and even stage rentals and dance floors. With just a few clicks, you can book the perfect party rental for your event, and we'll take care of the rest. Our team of experts will handle the delivery and setup, leaving you with one less thing to worry about.

At Alaka'i Inflatable & Party Rentals, we take pride in providing our customers with exceptional service and high-quality products. Our commitment to safety and customer satisfaction is what sets us apart from other party rental companies in Oahu. When you reserver party tent rentals from us, you can trust that you're getting the best. We'll work with you to ensure that your event is unforgettable and that your guests have a great time.

So why wait? Let from Alaka'i Inflatable & Party Rentals make your event perfect. Reserve your party rentals in Oahu TODAY. Mahalo!
Do You Deliver Tents, Tables, and Chairs Near Me?
The answer is Yes! Alaka`i Inflatables & Party Rentals is the #1 supplier in Hawaii of Inflatable Party Rentals such as, Water Slides, Bounce House with Slide, Tents, Tables, Chairs and Accessories, Obstacle Courses, Bounce Houses, Interactive Games, Inflatable Dry Slides, Concessions, Mechanical Rides, Misc Party Supplies and much more! Rent your next Inflatable rental with us, Alaka`i Inflatables & Party Rentals!
Our Service Area
Proud to Serve The Following Areas:
Ala Moana
Ewe Beach
Hawaii Kai
Honolulu
Kailua
Kaneohe
Mililani
O'ahu
Waianae
Waipahu
All areas in between
If your party or event is beyond that radius, just let us know! We may be able to make special accommodations to suit your event.
NOTE: Fees may vary depending on how far you are outside our service area.
https://www.google.com/maps/d/embed?mid=1Vud9a37xQxi9z09JOZiKLoJbfccN4fw&ehbc=2E312F
Customers Who Reserve A Party Tent Rental Also Shop For: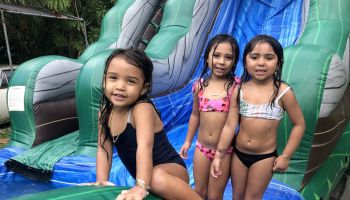 Inflatable Water Slides
Need a fun event attraction for your next party? We have a HUGE selection of inflatable water slides available and waiting for your rental reservation. Choose from single or double lane water slides or a splash pool. We even have rentals with a slip n slide!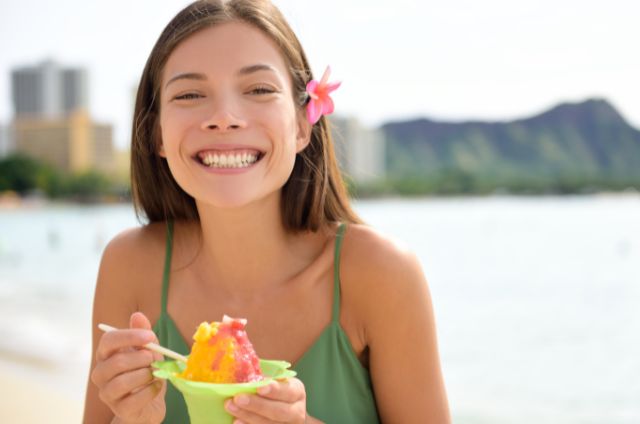 Concessions
Are you hosting a fun event and need party snacks? We have a yummy selection of concession rentals, including shaved ice machines, popcorn machines, nacho machines, slush machines, and more! We also have margarita machines for the adults!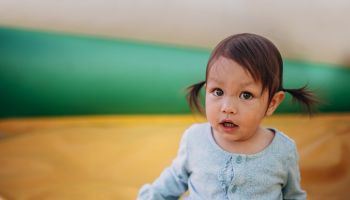 Bounce Houses
Get ready for a bouncy great time with bounce house rentals! We have a huge selection of bounce houses with over 60 different party themes to choose from to match just about any party theme. Check out our complete selection and reserve your favorite TODAY!
What Our Customers Say About Alaka`i Inflatables & Party Rentals
Frequently Asked Questions About Renting Tents, Tables, and Chairs
Does the price include set up and delivery?
A majority of our equipment includes setup and breakdown. Additional Fees apply for setup and break down of Tables and chairs. Delivery Fees always depend on the location we are delivering to and the amount of the rental. Please inquire for further explanation. Remember prices do not include sales tax.
Does the standard rental time include your set up time?
No. We arrive early to set up so you get the entire rental time to play.
That depends on how many rentals we have that day. Generally we arrive 1-3 hours before the rental time begins. If we have a lot of rentals that day, we may need to set up as early as 4 hours in advance. If this is the case, we will call the Friday before to confirm that someone will be at the party location.
We´ve rented some really dirty jumps from other companies in the past. Are they always that dirty?
No. The jump should be clean when you get it. Alaka`i Inflatables & Party Rentals cleans and disinfects after every rental.
Do we have to keep it plugged in the entire time?
Yes. A blower keeps air in the jump unit the entire time. Once unplugged they deflate. That's why we require an outlet within 50´ of the unit or a generator. Longer cords can pop your circuit breaker so we bring our own heavy duty cords.