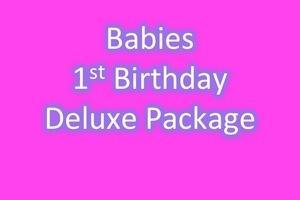 BABIES 1ST BIRTHDAY DELUXE PACKAGE
· 4 HR PRICE= $1049
· 8 HR PRICE= $1109
· 5N1 BLUE COMBO BOUNCER (CHOOSE FROM OUR MANY THEMES)
· 2N1 15X15 COMBO BOUNCER (CHOOSE FROM OUR MANY THEMES)
· 2 WOODEN CARNIVAL GAMES OF YOUR CHOICE
· SUGAR SHACK CONCESSION STAND W/ COTTON CANDY, SHAVE ICE, POPCORN AND YOUR CHOICE OF SLUSH OR ICE CREAM (2 HRS)
*ADD $150 FOR EACH ADDITIONAL HOUR.
*IF ELECTRICITY IS NOT AVAILABLE PLEASE ADD THE APPROPRIATE GENERATORS UNDER "SPECIAL EQUIPMENT"
-The 2 Inflatables require 2- 3500 watt or 1-6500 watt generator
-Cotton Candy, shave Ice and Popcorn require 1- 6500 Watt Generator
-Slush or ice Cream machine requires 1- 6500 Watt Generator
*PLEASE SEE DETAILS FOR SUGAR SHACK CONCESSION STANDS
(CLICK ON LINK)
* BOTH 4 AND 8 HOUR PACKAGES INCLUDES THE SUGAR SHACK FOR 2 HOURS. EACH ADDITIONAL HOUR IS $150.
*Please notate Beg and end time fo rthe sugar Shack in the "Customer Comments" section