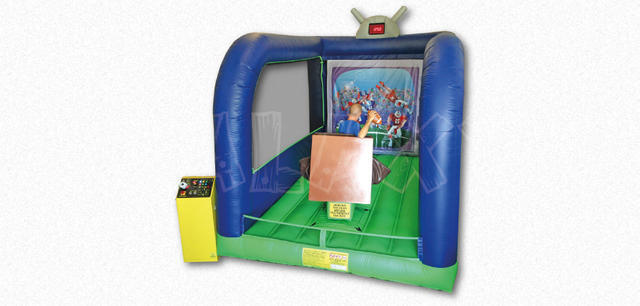 Mechanical Arm Chair Sports Ride
Introducing Armchair Sports Star the new exciting interactive sports game that puts you in control, with over 20 applications.
The great thing about Armchair Sports Star is that it is more than just one game, or two or even five!
We currently have 9 sports and 3 holiday themes to choose from.
The aim of the game is to sit in the moving armchair. While sat there, you need to throw the balls at the "TV screen" at specific targets to register a high score.
The television screen is a vinyl panel printed with the sport of choice (see options below).
The panels have small pockets for the electronic sensors on the reverse. Depending on which sport is being played there will be between 1 and 6 sensors.
We can make Armchair Sports Star into any game you can think of. We have already had some crazy suggestions!
Heres a list of sports themes we curently offer:
American Football
Basketball
Baseball
Football (Soccer)
Dodgeball
Darts
Tennis
Cricket
Volleyball
Golf









For holidays we have a Christmas theme, where you throw snowballs at Santa and the elves; Halloween is throwing mini pumpkins at Ghosts and Ghouls; and for Easter we have Easter Eggs and the Easter Bunny.